Aims and progress
The NKMP aims to:
Deliver a robust estimate and
Build a long-lasting capability to monitor and assess trends in koala populations.
The NKMP progress to date
All relevant jurisdictions engaged in co-design and collaborating in data sharing and capability building
First Nation, Technical Science and Citizen Science Communities of Practice established to help co-design the program
NKMP analytical framework developed
Inclusive monitoring approaches and robust modelling framework co-designed
NKMP monitoring network established and priority monitoring sites selected
Surveys complete at 25 NKMP sites
Two koala sighting apps released.
Koala estimates
CSIRO's data-driven population model has been built based on 88,000 individual historic data points, however there are known still limitations in the current data-driven estimate.
This first data-driven population estimate of population size for the listed koala population, without making any additional assumptions, is between 117,050 and 244,440.
The first population estimate for the unlisted koala population is between 170,780 and 383,570 individuals.
More data are needed from regional and remote areas in eastern Australia where we strongly suspect there are not koalas.
The current estimate relies on pre-existing data collected across a number of years and from a wide range of sources. Future estimates will be updated with contemporary data from on-ground monitoring efforts.
Adjusting the model for areas where there is little or no data, but where we strongly suspect there are no longer koalas present, generates a listed koala population estimate between 86,000 and 176,000 koalas.
This broadly aligns with the Threatened Species Scientific Committee (TSSC) estimate of 92,184 koalas in the combined Queensland, New South Wales and Australian Capital Territory population, based on best available information and expert elicitation in 2021.
Like any data-driven model, the confidence bounds of this estimate will improve as more data are added into the model. Improving the current amount and quality of the data that underpins the NKMP, and in particular completing surveys in those locations where we have known data gaps and strongly suspect there are no longer koalas present, is the priority over the next six months.
| Estimate (date) | Method | National population range | Listed population range (QLD, NSW, ACT) | Unlisted population range |
| --- | --- | --- | --- | --- |
| TSSC (2021) used for Koala Recovery Plan | Expert elicitation | Not estimated | 92,200 | |
| NKMP 1st annual estimate (March 2023) | Data-driven NKMP model | 287,830 – 628,010 | 117,050 – 244,440* | 170,780 – 383,570* |
*Estimate derived from modelling of data with known gaps. Adjusting the model for where there is little or no data gives an anticipated listed koala population estimate between 86,000 and 176,000 koalas. This will be improved by collecting and ingesting additional data over time.
See here for a more detailed description of the NKMP's approach to a national koala model. (PDF, 610kb)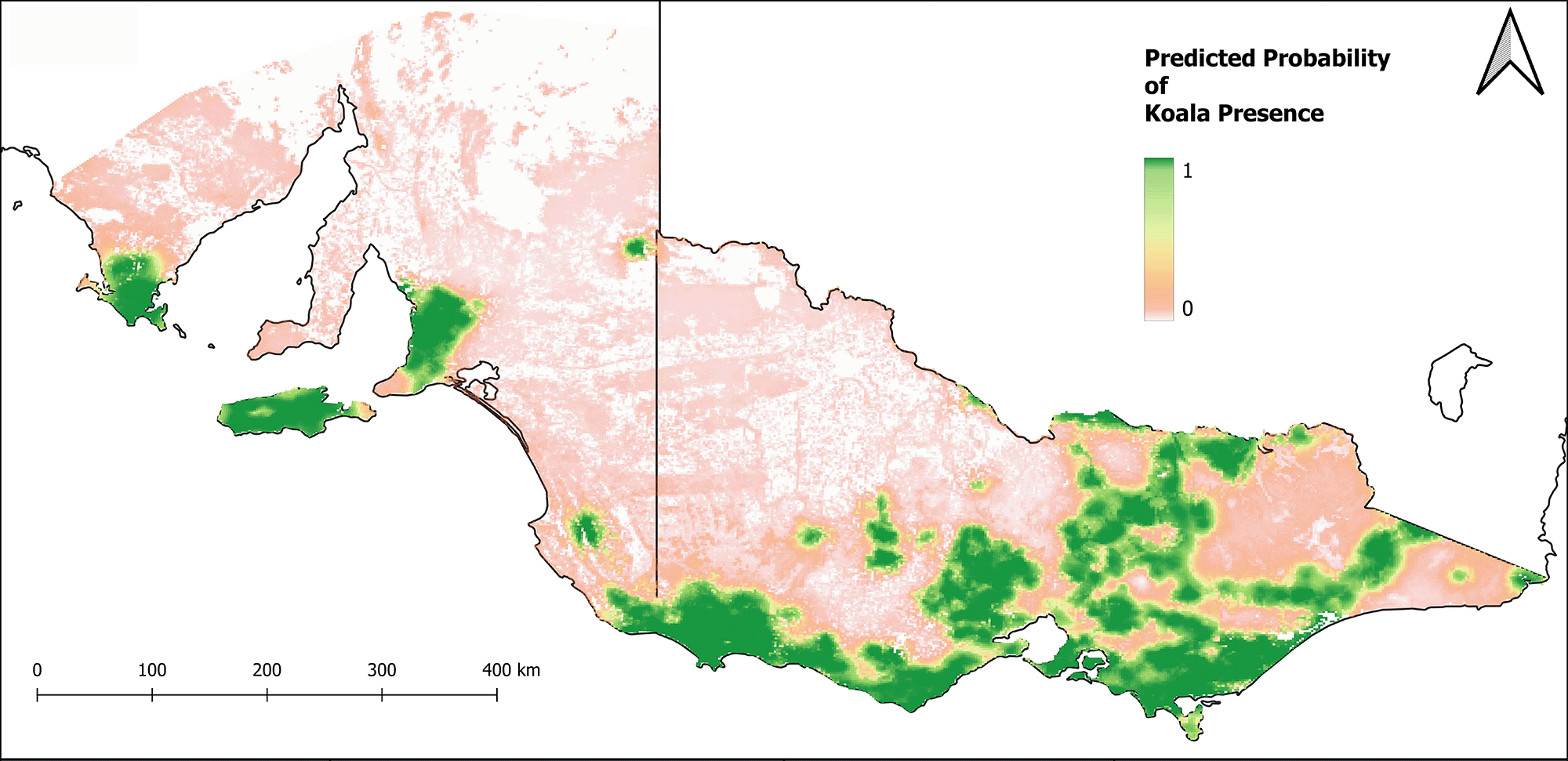 Still improving estimates
Better model, better data
Model is now robust (known biases addressed) and based on best available data, but more survey data is required to narrow the estimated range.
Diverse methods and data used
Different methods used for NKMP model – this makes it hard for the modellers but enables everyone to contribute.
The next annual estimate due March 2024.